Florist Menu
Florist Area Home
Submit Your Site
Advertising
Listings
Sponsored Listings
Featured Florist
Logo Advertising
Banner Advertising
Florist Profiles
Web Sites
Link to All Florists
About the Network
Network Members
All Florist Profiles
Contact All Florists
florist by location
England
Scotland
Ireland
Wales
florists in London
florist by county
All Florist Advertising
Sponsored listings are available on any of the
All Florist Network County Sites
offering wide coverage of many locations within each county.
Sponsored Listings Provide:
Guaranteed listing on every page of the selected County.
Full Listing information (like a premium listing) including telephone number, email link and link to profile if applicable.
Widest coverage of any of our listings on the All Florist Network
Example: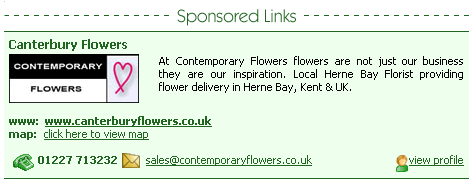 All that is needed are the details of the site you want listed (as with any standard or premium listing) and which county you would like to have a sponsored listing in. For more information or to enquire about a sponsored listing please
contact us
giving us details of the county you would like your listing to cover.